"We'll be announcing it very soon," the Man City player's agent said, revealing a major deal on the way.
Manchester City striker Erling Haaland's agency has stated that he will soon have a new boot sponsor.
Rafaela Pimenta was interviewed by her native country's press for the first time. Globo Esporte, who got to have a thirty-minute talk with her at an airport in Italy, emphasized this.
The agent detailed her path to becoming one of the most important intermediaries in world football, and among the clients, she talked about, there was obviously Haaland.
Pimenta mentioned that she got to know the Manchester City player when he was still 17. She talked about handling his summer transfer and was asked by Globo Esporte about her quotes regarding him being worth £1bn. That's when she started commenting on his value.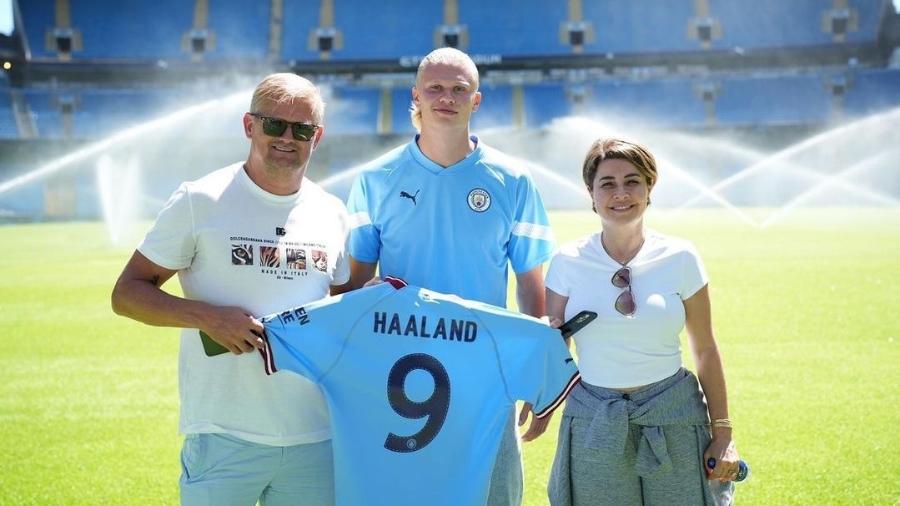 "When I spoke of Haaland's value, I was considering everything. The value as a transfer and image package. I don't know if in the near future any club will pay a billion for a player. In the distant future yes, huh? In the near future, I wouldn't be able to tell you," Rafaela Pimenta told Globo Esporte.
"But when Paul Pogba was transferred for £89m, if I'm not mistaken, it was unbelievable. 'My God in heaven, how is it possible? It's a record. Nowadays if you talk about £90m… he's a good player, from the academy. What I mean is that it has become an acceptable number on the market. When Paul was transferred to Manchester United, if anyone thought of Mbappé €300m, I had to be hospitalized. So those numbers increase as the value of this sport increases.
"Sometimes I see that focus 'oh, but the commissions have increased, but everything increased. The commission increased, the ticket price increased, the television rights increased, the sponsorship contract increased."
The agent of the Manchester City star then mentioned the sponsorship contract as an example of how numbers have been growing in football.
"When I started 20 years ago, I would never have reached the sponsorship numbers that we are discussing today for Haaland. We will be announcing, very soon, Haaland's new sponsor and it's the biggest sports sponsorship deal in football history! But I'm sure that three years from now when I look at this contract, I'll say: 'what a horrible contract', right? So the perspective of one billion, comes from this, from the growth of this sport that is very big in the growth of numbers. Multiplication is a snowball. I really think we're going to get to those values ​​for a player."
Globo Esporte then asked if that agreement was real or just an example, and quizzed her about the price involved. Pimenta confirmed the deal but didn't want to reveal the contract value.
"Well, everyone knows he's been playing without a sponsor for a while and now it's time, right? So we should be announcing that very soon. Values, if we talk, we lose the client, so I think it's better not to talk."