'Put the team on his shoulders,' says Pep Guardiola after Manchester City's triumph against Fulham.
Erling Haaland's injury-time penalty sealed the three points, but he wasn't the main attraction on Saturday.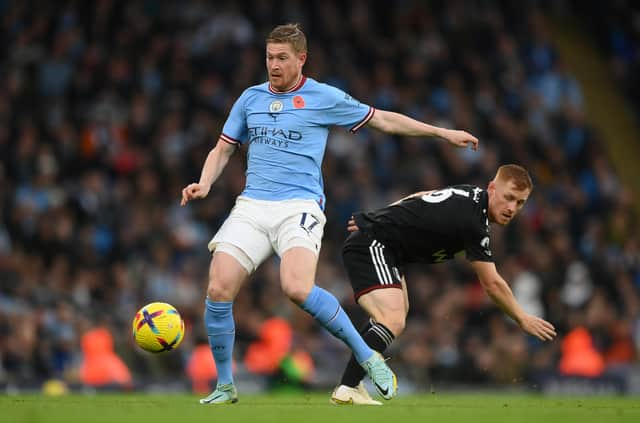 Pep Guardiola praised Kevin De Bruyne after the win over Fulham on Saturday. Credit: Getty.
Pep Guardiola said Kevin De Bruyne carried Manchester City 'on his shoulders' in Saturday's 2-1 win over Fulham in the Premier League.
The Belgian was outstanding at the Etihad and was everywhere in the second half as City pushed to find a breakthrough goal despite being reduced to 10 men following Joao Cancelo's early red card. De Bruyne thought he had provided it on 74 minutes when his cross was converted by Erling Haaland, but it was ruled out for offside, and the game-changing moment didn't come until injury-time
It was De Bruyne who was tripped in the box by Antonee Robinson and subsequently earned his side a penalty in the 95th minute. The returning Haaland stepped up and tucked it home to provide City with all three points.
Guardiola recently claimed De Bruyne wasn't at his best, but the midfielder has since produced the only goal in the game away to Leicester City, set up Julian Alvarez's goal on Wednesday, and then was superb against Fulham.
Speaking after the latter, Guardiola singled De Bruyne out for praise, as well as three other midfielders. "Now we are winning in the last minute it is better. After we played 10 v 11 against that team, of course, they missed [Aleksandar] Mitrovic a lot, but we conceded just one shot," said the Catalan.
"We played in the right tempo – 10 v 11 you cannot attack as quickly because they will attack quicker. Bernardo [Silva], [Ilkay] Gundogan, Rodri, Kevin, the four players in the middle were amazing.
When I said in the recent past that he was not at his best, Kevin, the game at Leicester and today, he was completely the opposite. He is a movement guy and today he put the team on his shoulders.
"Of course, everyone was exceptional. Sixty-five minutes against Fulham [with 10 men] playing the way we played. In the end, celebrating with our people was [nice]. We didn't win the league today but this moment makes sense for our jobs. I see the faces of our crowd when we were making the pitch walk [after the game]. It was really good."