Harvey Elliott is the Premier League's best xGBuildup midfielder, a metric that rewards involvement in possession sequences that lead to shots.
Assists are such a bizarre metric that they are meaningless in determining a player's creativity. Someone can set up a teammate for a tap-in with a fantastic pass, but if they don't convert, the originator is plainly not credited with an assist.
This is a problem that Harvey Elliott has had throughout his Liverpool career. Prior to Liverpool's 3-1 triumph over Southampton, the youthful midfielder had produced eight Opta-defined clear-cut chances for the Reds, all of which were wasted.
When adjusted for possession, who are the best Premier League midfielders in terms of buildup involvement so far this season. pic.twitter.com/cTksTZaVr5

— VisualGame (@avisualgame) November 14, 2022
To put that into context, Andy Robertson has set up four such chances this season and three of them have led to goals, and therefore assists for the Scot. Even if Elliott's first eight were only of average value – and Mohamed Salah's miss against Bournemouth following his pass was the joint-highest xG chance Liverpool have had in the last five years – there'd be just a 1.9 percent likelihood that the former Fulham youngster wouldn't have a single assist.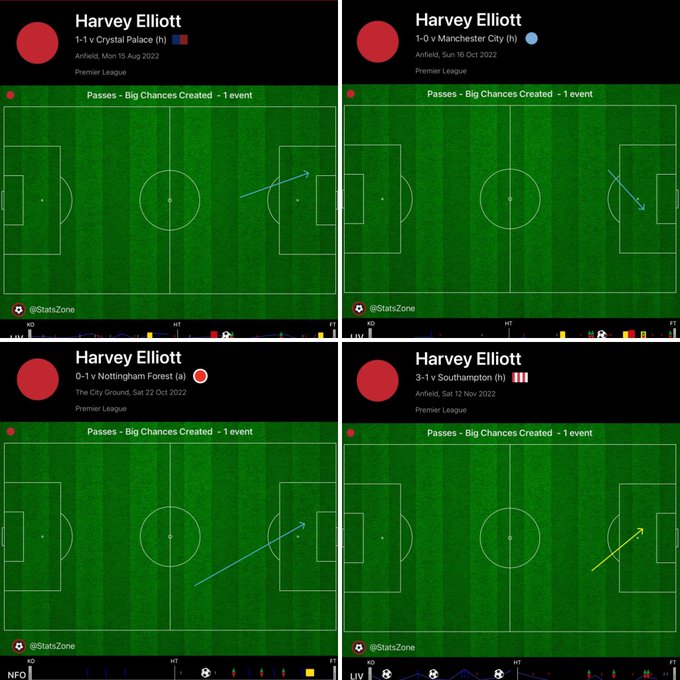 To say Elliott was unfortunate to not create a goal in his first 21 Premier League appearances for the Reds is putting it very mildly. Enter Darwin. Nunez might have found the woodwork with an Elliott-created clear-cut chance against Crystal Palace, but he made no mistake when the Saints paid a visit to Anfield.
Both passes were flighted deliveries towards the left side of the penalty box, and they were broadly comparable to the Uruguayan's. Elliott is quickly becoming a master of diagonal passes that produce high-value scoring chances.
Even if we overlook his imagination, the 19-year-old has emerged as probably the Premier League's most crucial midfielder when it comes to the play preceding a key pass. One metric for this is xGBuildup, which is the "total xG of every possession a player is involved in sans important passes and shots" (per Understat). In other words, it grants credit for participating in a possession sequence that results in a goal attempt even if the player does not take the shot or create the goal chances